Dr. Erich und Lisbeth Böckler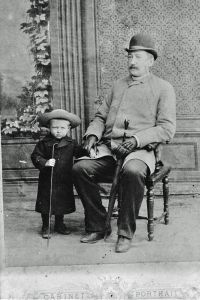 Dr Erich Böckler was born on 25 January 1904 in Tallinn. He was one of eleven children from a Baltic German merchant family. At the age of 19, Erich began studying architecture (including Heinrich Tessenow as lecturer at the Technical University in Berlin-Charlottenburg). He was awarded his doctorate in Vienna in 1940. After World War II, Erich Böckler was heavily involved in the reconstruction of Berlin. His buildings are characterised by their functionality. His main aim in many of his projects – most of which were for the publicly funded social housing sector – was to produce good architecture with limited financial resources. One of his most famous assignments was the extension of the Ernst Reuter House (1952–1956), which had been started in 1938.
Erich Böckler and Lisbeth Marie Eglon (b. 17.2.1907 Taps / Estonia, d. 11.3.1998 Bad Homburg v. d. Höhe / Germany) were married on 12 July 1930 in Berlin-Charlottenburg. On 6 May 1977, they founded the Martin Carl Adolf Böckler Foundation in memory of Erich Böckler's father. It was their dream to facilitate the exchange of ideas between researchers on both sides of the iron curtain during the cold war. The couple, who remained childless, last lived in Bad Homburg v. d. Höhe. Erich Böckler died on 11 January 1990 and bequeathed most of his wealth to the foundation. In 2005 the foundation merged with the Mare Baltikum Foundation, also established by the couple, to become the M.C.A. Böckler Mare Balticum Foundation. The foundation received its present name on 24 November 2016.