Dr. Erich und Lisbeth Böckler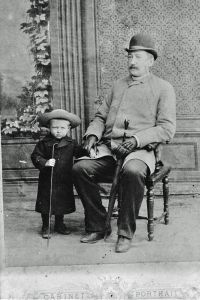 Dr. Erich Böckler was born January 25th, 1904 in Reval/Tallinn (Estonia). He was one of 11 children of a German-Baltic merchant family which had been residing in Reval for generations. These roots and a deep bond with his birthplace exerted a strong influence upon his life's career and his work.
At age 19 Erich Böckler took up the study of architecture at the Technical University in Berlin - Charlottenburg. There he studied among others with Heinrich Tessenow. In 1940 he finished his doctorate at Vienna.
In the two decades after World War II he took a leading role in the reconstruction of Berlin. The buildings he designed are characterized by a high degree of functionality. To create architecture of quality with limited financial resources was the hallmark of a large portion of the orders which he received, in particular from the publicly supported sector of housing construction. His best known building is the extension of the Ernst-Reuter-House (1952-1956), begun in 1938.
On July 12th, 1930 Erich Böckler married Lisbeth Marie Eglon (*17.2.1907 Taps/Estonia - 11.3.1998 Bad Homburg v.d Höhe) in Berlin-Charlottenburg. Together they founded the Martin-Carl-Adolf Böckler-Foundation on May 6th, 1977 in memory of the father of Erich Böckler. It was the couple's wish to enable scholars on both sides of the Iron Curtain to have a forum for an exchange of opinions during the period of the Cold War. The foundation merged in 2005 with the "Mare Baltikum-Foundation", which had also been founded by the Böcklers, consequently is known today as Böckler-Mare-Balticum-Foundation.
At the end of their lives the childless couple lived in Bad Homburg v. d. Höhe which has remained the seat of the foundation to this day. At the time of Erich Böcklers death on January 11th, 1990 Erich Böckler left a major part of his estate to the Böckler-Mare-Balticum-Foundation.